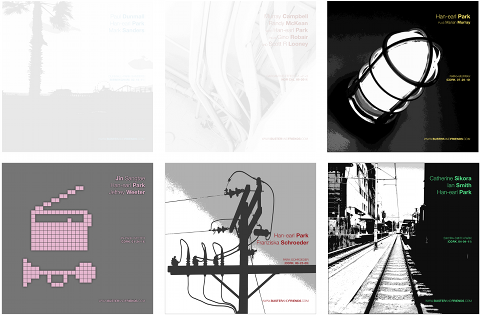 A couple of more download releases in the pipeline after which I'm planning to take a short break. The releases so far—all Creative Commons licensed, and free or 'name your price'—are collated here.
I've also listed my recommended Bandcamp albums that have accompanied the releases. There are some very fine, inspiring creative, improvised, experimental music on Bandcamp, but it isn't always easy to find the recordings. Here's my small contribution to help people get started. Enjoy, download, share—support creative musicians!
Keywords: improvised music, creative music, jazz, free jazz, free improvisation, experimental music, electronic music, electroacoustic.
Han-earl Park plus Marian Murray
A solo performance by guitarist-constructor Han-earl Park exploring, with feedback and resonant buzzes, the complex, cavernous acoustics of the Lewis Glucksman Gallery, and the interactions between artifact (guitar) and the body (guitarist). For 'Strokes and Screwballs,' Park is joined by violinist-improviser Marian Murray for a conversational improvisation. [More info…]
Accompanying Recommended Albums
Jin Sangtae, Han-earl Park and Jeffrey Weeter
A stark, real-time evolution of on-stage relations. The performance took place during Seoul-based experimental electronic musician Jin Sangtae's European tour. Featuring clanking hard drives, buzzing electronics, noisy guitars and machine gun percussion, this recording captures Jin's meeting with guitarist-improviser Han-earl Park, and composer, drummer and intermedia artist Jeffrey Weeter. [More info plus the 24-bit edition…]
Recommended Albums
Han-earl Park and Franziska Schroeder
Áine Sheil (from the liner notes): "The Glucksman Gallery is one of the finest buildings to have been built in Ireland in recent times, but it is a tricky space for any musician to negotiate. Sounds reverberate and carry in unexpected ways, and music improvised here runs the risk of losing all definition. That [Han-earl] Park and his co-improviser Franziska Schroeder gracefully avoided this testifies to their alertness, sensitivity and experience working together in other spaces…. Indeed the evening had the feeling of conversation, with the instrumentalists demonstrating the improvisatory give-and-take of a convivial exchange of ideas." [More info…]
Recommended Albums
Catherine Sikora, Ian Smith and Han-earl Park
This was a rare performance in Ireland by Catherine Sikora (New York-based, originally from West Cork), a saxophonist with a striking, compelling sound. She has been described as "a free-blowing player's player with a spectacular harmonic imagination and an evolved understanding of the tonal palette of the saxophone" (Chris Elliot, Seacoast Online). Sikora was joined by cofounder of the London Improvisers' Orchestra, trumpeter Ian Smith (London-based, from Dublin), and guitarist Han-earl Park (then Cork-based, currently Brooklyn-based, from California). Smith and Park had just come off the tour as part of the power-trio Mathilde 253 (with Charles Hayward) with the legendary composer-improviser Ishmael Wadada Leo Smith. [More info…]
Recommended Albums
also available by Han-earl Park