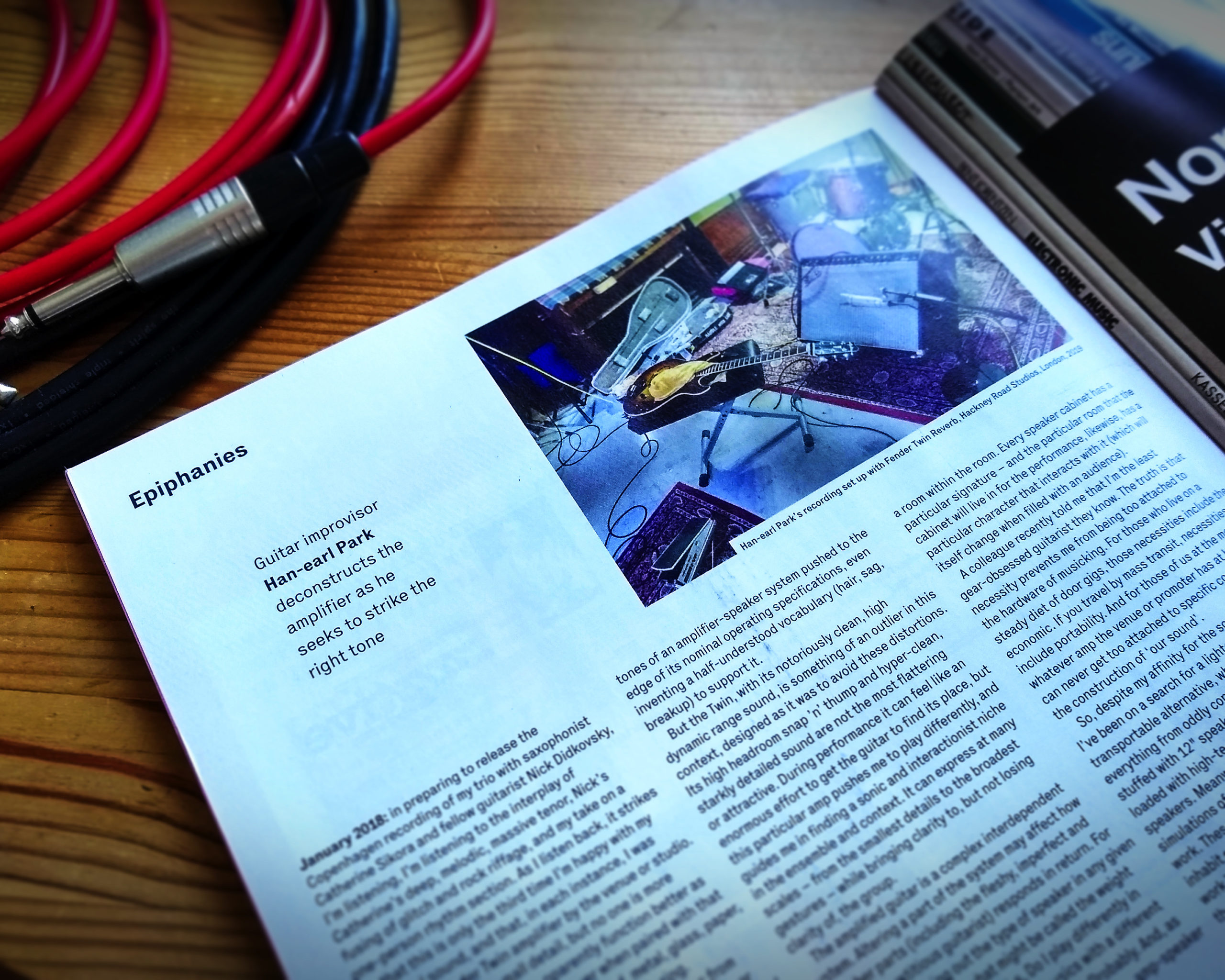 In case you missed it, I wrote a short piece for the June edition of The Wire (issue 448) in which I muse about speaker cabinets, cyborgs, simulations, rooms-within-rooms, and the superstitions surrounding, and genre markers of 'tone':
All instrument-instrumentalists are cyborg creatures in which musical gestures and behaviours emerge from the collision of minds, bodies and artifacts; of physics, physiology, technology and culture. One peculiarity in the case of the amplified instrument-instrumentalist is the particular way this cyborg is exploded in space, spilling its components and organs across the stage. The guitar-guitarist may sit on one side of the stage, while the amp sits some distance away. It's freakish, as if, say, a violin's soundbox had severed itself from the rest of the instrument and crawled across the stage.

The speaker cabinet plays a curious part in this cyborg dance. The cabinet is both the sounding part of the instrument, an externalized soundbox removed from the tactile interface of the instrument, while also functioning as a room within the room. Every speaker cabinet has a particular signature, a particular character, and the particular room that the cabinet will live in for the performance, likewise, has a particular character that interacts with it (which will itself change when filled with an audience).
You can read the rest in the June issue of The Wire.
Recordings Discussed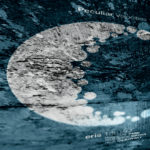 Peculiar Velocities (BAF002) [details…]
Personnel: Han-earl Park (guitar), Catherine Sikora (saxophone) and Nick Didkovsky (guitar).
Track listing: Ballad of Tensegrity I (≥ 5:12), Ballad of Tensegrity II (2:28), Peculiar Velocities I (3:46), Peculiar Velocities II (3:36), Sleeping Dragon (5:22), D-Loop I (≥ 6:16), D-Loop II (5:13), Polytely I (≥ 5:01), Polytely II: Breakdown (5:33), Anagnorisis I (2:09), Anagnorisis II (2:19). Total duration ≥ 46:54.
© + ℗ 2020 Han-earl Park.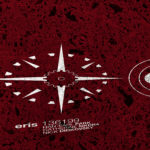 Eris 136199 (BAF001) [details…]
Personnel: Han-earl Park (guitar), Catherine Sikora (saxophone) and Nick Didkovsky (guitar).
Track listing: Therianthropy I (≥ 3:43), Therianthropy II (8:56), Therianthropy III (3:55), Therianthropy IV (6:30), Adaptive Radiation I (6:44), Adaptive Radiation II (8:48), Adaptive Radiation III (5:54), Universal Greebly (10:58), Hypnagogia I (8:03), Hypnagogia II (4:45). Total duration ≥ 68:25.
© + ℗ 2018 Han-earl Park.