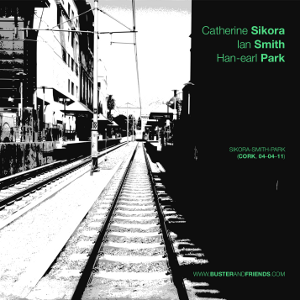 "Courageous, exciting and iconoclastic." Of Catherine Sikora, Ian Smith and Han-earl Park's download album, Andrew Rigmore writes in the December 2012 issue of jazzColo[u]rs:
Questo album è solo un assaggio della musica coraggiosa, entusiasmante ed iconoclastica che si può trovare gratuitamente — sotto licenza Creative Commons— sul sito dell'etichetta Bandcamp ed altri ad essa collegati. "Cork, 04-04-11" è la registrazione — di ottima qualità — del concerto tenuto dalla sassofonista Catherine Sikora, dal trombettista Ian Smith e dal chitarrista Han-earl Park a Cork, Irlanda, nell'aprile del 2011. E da troppo tempo la relativa pagina giace fra i preferiti del browserdi redazione, per cui è giunto il momento di darne conto. Si tratta di creatività made in Ireland, per quanto Park e Sikora oggi si siano stabiliti a New York. La sassofonista di Cork possiede un timbro corposo al tenore ed una limpidezza che la pongono sulla scia di maestri come Jerry Bergonzi o Charles Lloyd (il lungo assolo in Red Line Speed), ma anche fra gli avanguardisti più temerari della scena europea. Particolarmente originale la chitarra di Park, le cui baritonali e caustiche idiosincrasie sembrano fornire lungo tutto il setspunti in prevalenza ritmici agli intrecci fra tenore e tromba. Molto noto in patria, Smith vanta collaborazioni con Evan Parker, Lol Coxhill, Steve Beresford ed è co-leader di rinomati gruppi del free londinese come Forest e Trian: il suo secondo Cd da titolare, "Daybreak" (Emanem, 2000), coinvolge fra gli altri Derek Bailey e Oren Marshall. La sua fantasiosa tromba apre irriverente in 바르트, e si accompagna a chitarra e sax in Red Line Speed, ripartendo, a metà brano, da un pianissimo soffiato che diventa più lungo e sinuoso, fino a tornare a tessere trame aeree e sorprendenti insieme al sax, la cui chiusura solitaria è quasi toccante. Tromba silenziata per Massimo's Imagined Juxtapositions, con certe inflessioni milesiane tipiche di Wadada Leo Smith ma in qualche piega anche debitrici delle sfumature di Cherry e Dixon. Quanto al progetto dietro all'etichetta, è di per sé innovativo, permettendo agli utenti in molti casi di scaricare gli album battendo essi stessi un prezzo e, come in un'asta, il Cd acquisisce un suo valore di mercato e quindi un costo. Ovvio che chi prima arriva…

— Andrew Rigmore (jazzColo[u]rs)
Meanwhile, Stanley Jason Zappa contributes Free Jazz Blog's third review of this album [other reviews from Free Jazz…]:
…There is no doubt that Sikora is the most luminous of the three, so much so that this recording is, now and forever "one of Catherine Sikora's early recordings." This is less the recording's fault and more the fault of Ms. Sikora's continued emergence as a leading, steering voice on the tenor saxophone. [Read the rest…]
[More about this recording…] [All reviews…]
Also available for download…


Park+Murray (Cork, 07-29-10) [details…]
Performers: Han-earl Park (guitar) plus Marian Murray (violin).
(cc) 2012 Han-earl Park/Marian Murray.


Coming soon…