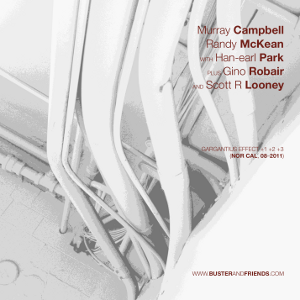 The recording of Gargantius Effect (Murray Campbell: violins, oboe and cor anglais; and Randy McKean: saxophone, clarinets and flutes) with Han-earl Park (guitar), plus Gino Robair (energized surfaces, voltage made audible) and Scott R. Looney (hyperpiano) is now available for download. The album was recorded during the August 2011 tour of Northern California, and features tracks recorded at The Tin House (Grass Valley) on August 25th, at Studio 1510 (Oakland) on August 30th. [Bandcamp page…] [Download now…]
Recommended price: €8+
In line with the current series of download releases (Park+Murray (Cork, 07–29–10), Jin-Park-Weeter (Cork, 01-24-11), Park-Schroeder (Cork, 03-26-09) and Sikora-Smith-Park (Cork, 04–04–11)), this record is hosted at Bandcamp, and available as a 'name your price' album. Although you can download the recording for free (name €0 as your price) with certain restrictions, please consider paying at least the recommended price. Your generosity will help support the performers and their work.
Special thanks to Randy McKean for organizing the tour, Ken Schumacher of Live Vibes Recording for the engineering, and to Corey Mwamba for feedback during the mastering process.
description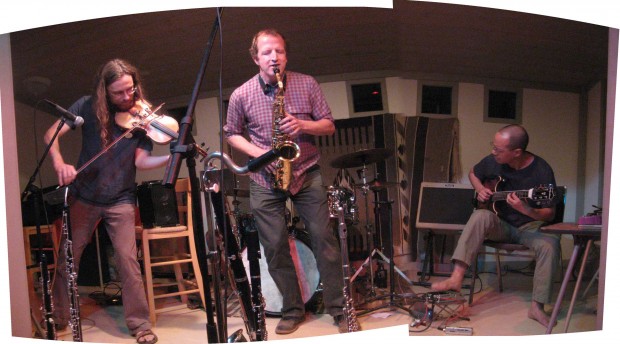 In front of a small but appreciative audience, the California-based Gargantius Effect, including [Han-earl] Park, Murray Campbell, Randy McKean, Scott Looney and Gino Robair, slip in and out of something approaching Webern-ian counterpoint on Nor Cal 8-2011. Looney and Robair join in later on this disc of various tour dates, leaving the other three to explore the outer limits of timbre, especially on the epic "Old Robots Never Rust". Campbell's violin slides are an excellent foil to the more vocal qualities in Park's improvising, not to mention similar devices used by multi-reedist Randy McKean as the trio converge and diverge in pitch space. When Robair and Looney appear, electronics and hyperpiano are difficult to distinguish, but first-rate audio keeps everything in proper perspective and the improv is always edge-of-seat energetic.

— Marc Medwin (The New York City Jazz Record)
"Han [Han-earl Park] is a very old friend of mine. We've done a lot of strange things in various parts of Europe. He's somewhat responsible for me ending up in Nevada County. About ten years ago he was studying at CalArts, and I came over to play in his graduation show. Part of that trip was my first visit to Nevada County, where many things spinned out from that.

"Also finding this gentleman [Randy McKean] here in Grass Valley; finding not only a great improvising player, but one that plays bass clarinet, was a huge thing that helped me stay. It was a complete leap in the dark to move out here. I was raised in a rural area, I always known that that was the thing to do, but leaving a metropolitan zone [The Hague] and coming out here with nothing—no plan—was a shot in the dark, and finding that there were things like this [McKean] in the woods made it a lot easier to stay.

"So these are two of my favorite people to play music with."

— Murray Campbell (introduction to the performance, August 25, 2011)
The Gargantius Effect is the brainchild of Murray Campbell (violins, oboe and cor anglais) and Randy McKean (saxophone, clarinets and flutes). Like the Stanislaw Lem story of the same name, in which armies of warring soldiers are linked together to form a peaceful, blissfully-aware omni-mind, so, too, these longtime collaborators and Nevada County natives transform the connections and crossfires of the various genres in which they usually find themselves—the Euro-café of Beacoup Chapeaux, Balkan swing of Chickenbonz, chamber jazz of Bristle—into scintillating bits of free improvisation, compositional constructs and mechanized mayhem.
This album documents Gargantius Effect's August 2011 tour of Northern California with special guest and fellow Sonologist Han-earl Park (guitar), who had just returned to the States after years in Europe, teaching, and playing with the likes of Paul Dunmall, Charles Hayward and Franziska Schroeder. In addition to the recording of the performance at The Tin House (Grass Valley) on August 25, 2011, the August 30, 2011 session at Studio 1510 (Oakland) features Bay Area veteran improviser, composer and electronic artist Gino Robair (energized surfaces, voltage made audible), and hyperpianist Scott R. Looney (hyperpiano).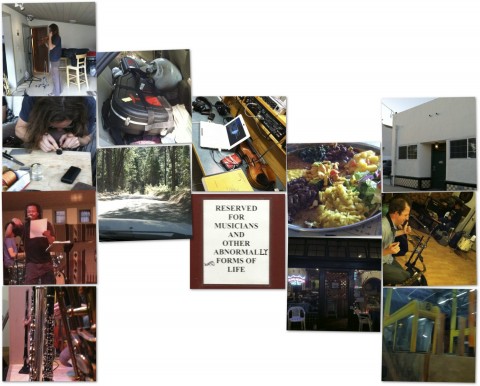 personnel
track listing
recording details
All music by Murray Campbell, Randy McKean and Han-earl Park, except 'Thunderous Accompaniment' by Murray Campbell, Randy McKean, Han-earl Park and Gino Robair, and 'While Drums' by Murray Campbell, Scott R. Looney, Randy McKean, Han-earl Park and Gino Robair.
'The First Sally' and 'Old Robots' recorded live August 25, 2011 at The Tin House, Grass Valley.
Performance presented as part of Col. MaCaw's Magical Cure-All Mid-Summer Soporific.
Recorded and mastered by Ken Schumacher.
'Thunderous Accompaniment' and 'While Drums' recorded live August 30, 2011 at Studio 1510, Oakland.
Recorded by Randy McKean.
Mastered by Han-earl Park.
Artwork by Han-earl Park.
The recordings (The First Sally, Old Robots Never Rust!, Thunderous Accompaniment of Fife and Drum, and While Drums Continued To Roll) and artwork released under a Creative Commons Attribution-Noncommercial-No Derivative Works 3.0 Unported License. Please attribute the album to Murray Campbell, Randy McKean, Han-earl Park, Gino Robair and Scott R. Looney; attribute the individual tracks to the corresponding performers; and attribute the artwork to Han-earl Park.
about the performers
Gargantius Effect
The Gargantius Effect is the brainchild of Murray Campbell (violin, oboe and electronics) and Randy McKean (reeds). Like the Stanislaw Lem story of the same name, in which armies of warring soldiers are linked together to form a peaceful, blissfully-aware omni-mind, so, too, these long-time collaborators channel their contrarian impulses into synchronized bouts of free improvisation, compositional constructs and mechanized mayhem.
Murray Campbell
Murray Campbell has described himself as a Sonologist ever since it was recommended to him as a more respectable occupation than "musician" for the purposes of immigration control. In this capacity he has worked with Alex Fiennes on an octaphonic spatialisation system un-muted at Dialogues Festival (Edinburgh).
He currently resides in the foothills of the Sierra Nevada mountains in California where he is designing an off-grid solar-powered geodesic wavefront recreation system with the aim of upsetting the bears.
He finds writing about himself in the third person slightly disturbing.
Randy McKean
Randy McKean has burrowed into the foothills of the Sierra Nevada but still wants to blow your mind. Whether his mission is executed by his chamber jazz quartet Bristle, through sideman gigs with the likes of the Euro Café messabouts Beaucoup Chapeaux, or via performances of his pieces for orchestra or string quartet, matters not to him, as long as his objective is achieved. Perhaps one of his CDs—Bristle's Bulletproof (Edgetone), So Dig This Big Crux (Rastascan), or the Great Circle Saxophone Quartet's Child King Dictator Fool (New World)—will do the job.
Han-earl Park
Improviser, guitarist and constructor Han-earl Park has been crossing borders and performing fuzzily idiomatic, on occasion experimental, always traditional, open improvised musics for over fifteen years. He has performed in clubs, theaters, art galleries, concert halls, and (ad-hoc) alternative spaces in Austria, Denmark, Germany, England, Ireland, The Netherlands, Scotland and the USA.
Park is part of Mathilde 253 with Charles Hayward and Ian Smith, Eris 136199 with Nick Didkovsky and Catherine Sikora, and Numbers with Richard Barrett. He is the constructor of the machine improviser io 0.0.1 beta++, a project performed in coalition with Bruce Coates and Franziska Schroeder. He has recently performed with Ishmael Wadada Leo Smith, Paul Dunmall, Lol Coxhill, Mark Sanders, Gino Robair, Tim Perkis, Pat Thomas, Andrew Drury, Josh Sinton, Dominic Lash, and as part of ensembles led by Wadada Leo Smith, Evan Parker, and Pauline Oliveros. Festival appearances include Freedom of the City (London), Sonorities (Belfast), Sonic Acts (Amsterdam), dialogues festival (Edinburgh), and CEAIT (California). His recordings have been released by labels including Slam Productions and Creative Sources.
Park taught improvisation at the UCC Department of Music, and founded and curated Stet Lab, a space for improvised music in Cork.
Gino Robair
Gino Robair has created music for dance, theater, radio, television, silent film, and gamelan orchestra, and his works have been performed throughout North America, Europe, and Japan. He was composer in residence with the California Shakespeare Festival for five seasons and served as music director for the CBS animated series The Twisted Tales of Felix the Cat. His commercial work includes themes for the MTV and Comedy Central cable networks.
Robair is also one of the "25 innovative percussionists" included in the book Percussion Profiles (SoundWorld, 2001). He has recorded with Tom Waits, Anthony Braxton, Terry Riley, Lou Harrison, John Butcher, Derek Bailey, Peter Kowald, Otomo Yoshihide, the ROVA Saxophone Quartet, and Eugene Chadbourne, among many others. In addition, Robair has performed with John Zorn, Nina Hagen, Fred Frith, Eddie Prevost, Thinking Fellers Union Local 282, Myra Melford, Wadada Leo Smith, and the Club Foot Orchestra.
Robair is a founding member of the Splatter Trio and the heavy-metal band, Pink Mountain. In addition, he runs Rastascan Records, a label devoted to creative music.
Also by Murray Campbell and Randy McKean

Also available for download [more…]



Park+Murray (Cork, 07-29-10) [details…]
Performers: Han-earl Park (guitar) plus Marian Murray (violin).
(cc) 2012 Han-earl Park/Marian Murray.



updates
10–24–12: add recommended price.
05–20–13: updated the 'also available for download' list, and updated reviews.
11–01–15: add A Little Brittle Music to downloads list, and change currency from USD to EUR.