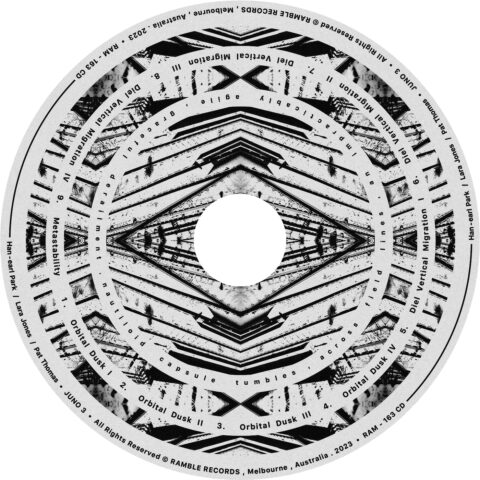 Juno 3 (RAM-163CD), the debut album by the trio of Han-earl Park, Lara Jones and Pat Thomas, is out now on Ramble Records!
The music on this album transports me to scenes from retro-scifi stories to those of present-day mass transit. It is, to my ears, the sounds of junction crossings, signals from space, and mysterious telegraphy; sometimes evoking impressions of walking by streams under footbridges, at others, of rushing through Manhattan Chinatown. Recorded live at Cafe OTO during the trio's first meeting, we knew then that we had something special.
I think the sounds and the performances on this disc are all 'round captivating, gripping and fascinating, and the production work, exceptional. Take the journey with us: I'm super proud of the music, and I am thrilled to finally share this with you!
[Get the CD/download from Ramble (Bandcamp)…]
CD: $18 AUD plus shipping. Download: $8 AUD.
description
Get ready for the latest release of challenging and imaginative music from Ramble Records with Juno 3, the debut album from the trio of Han-earl Park, Lara Jones and Pat Thomas. Recorded by Shaun Crook live at Cafe OTO, London, and mixed (refracted and rephrased) by Han-earl Park, the album is a particle sim of sounds which spelunks from derelict urban ravines to cybernetic rainforests, while catching auditory glimpses of crashing robotic waves, and strange telegraphic messages from space.
Nautiloid capsule tumbles
across field lines.
An impracticably agile,
graceful derailment.
Juno 3 is Han-earl Park (guitar), Lara Jones (saxophone and electronics) and Pat Thomas (electronics). The eponymous album document the first meeting—interactive, relational—by this trio as it takes a journey: launching from the familiar of the Hackney club space into future imagined By Others. We coax it into our space.
Motion and motifs. (Switching gears, shedding engines.) Modes of transport change from first principles: future-past transit networks give way to bioengineered surfboards.
Bodies collide, unwind, and we're up again. Reaching crossings; navigating junctions.
Intermodal is the only game we know. Networks (and bodies and vessels) weave, twist, cross then interweave, intertwist and intercross. (We, nocturnal monstrous shapes, turn and return to the deep.)
And, as the album comes to a close (thump'n'snap—bodies unwind), we find ourselves awakened back in the familiar club space. Or: half familiar. The same chairs, the same tables, the same staff. But not the same chair, not the same table, not the same staff.
personnel
track listing
Orbital Dusk I (6:04), Orbital Dusk II (4:20), Orbital Dusk III (2:29), Orbital Dusk IV (6:03), Diel Vertical Migration I (6:31), Diel Vertical Migration II (4:38), Diel Vertical Migration III (4:33), Diel Vertical Migration IV (7:36), Metastability (7:24). Total duration: 49:36.
recording details
Music by Han-earl Park, Lara Jones and Pat Thomas.
Recorded live March 20, 2022, Cafe OTO, London.
Recorded by Shaun Crook.
Mixed by Han-earl Park. Mastered by Chris Sharkey.
Art by Han-earl Park. Design by Atharwa Deshingkar.
Thanks to Richard Barrett, Heather Frasch and Richard Scott; to Fielding Hope and everyone at Cafe OTO, Laura Cole and everyone at Fusebox, Wesley Stephenson of Jazz North East, and Peter O'Doherty of Northern Lights Project. Shoutouts to Corey Mwamba, Graeme Wilson, rit. and Una Lee. The performance was presented with funding from the Berlin Senate Department for Culture and Europe.
© and ℗ 2023 Ramble Records.

Funded by Berlin Senate Department for Culture and Europe.