An exquisite exploration of space, time, nightmares, and dreamscapes.

— David Menestres (Free Jazz)
A friendly reminder that you have about seven days to download the live recording by Han-earl Park, Dominic Lash and Caroline Pugh. Limited availability, you can get the album free only with pre-orders of the CD/digital album 'Sirene 1009'.
Kuramoto Synchronization is the kind of recording that, had I not had another album scheduled, would have been its own release. I think the performance really shows off Dom's steady-handed, assured skills as an improviser. And if you don't know Caroline's work, I think this might be an excellent place to start—she sounds phenomenal here. (Oh, yes, and because the weather conspired to cancel Mark's flight, you get to hear three non-drummers alternately playing the role of the percussionist.)
But don't take my word for it, please listen for yourself:
Included with pre-orders of Sirene 1009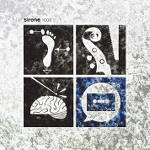 updates
01-31-17: no longer available for download.