100% heavy cotton, preshrunk jersey.
Screen printed with PVC-free, solvent-free ink.
Choice of ladies' and unisex/men's fit.
Available in S, M, L, XL, XXL.
100% for the perfect noise-night-out.
Celebrate your love of skonkin' improvised goodness by wearing the noisily official Eris tee.
Proven workwear for kid's bicycle valets!
Endorsed by Shinsky and curious cats everywhere!
Make your companion animal look as good as Otis!
€18 plus shipping. [Buy now…]
Shinsky photo © 2018 Nick Didkovsky. Otis photo © 2018 Catherine Sikora. All other images © 2018 Han-earl Park.
Also from Eris 136199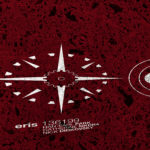 Eris 136199 (BAF001) [details…]
Personnel: Han-earl Park (guitar), Catherine Sikora (saxophone) and Nick Didkovsky (guitar).
Track listing: Therianthropy I (≥ 3:43), Therianthropy II (8:56), Therianthropy III (3:55), Therianthropy IV (6:30), Adaptive Radiation I (6:44), Adaptive Radiation II (8:48), Adaptive Radiation III (5:54), Universal Greebly (10:58), Hypnagogia I (8:03), Hypnagogia II (4:45). Total duration ≥ 68:25.
© + ℗ 2018 Han-earl Park.