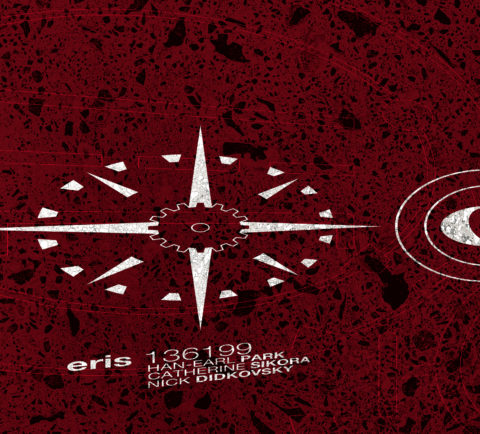 : Eris 136199's eponymous album is (compact disc and digital download)! Eris 136199 is the quick-reacting cyborg virtuosity of Han-earl Park, the mighty melodic imagination and big tenor sound of Catherine Sikora, and the diamond-cut precision and grind-meets-experimentalism of Nick Didkovsky.
[Get the CD/download (Bandcamp)…]
CD: €11 minimum ('name your price') plus shipping.*†
Download: €8 minimum ('name your price').†
* Limited edition glass-mastered CD. CD includes additional material (liner notes, artwork, etc.) not included in the download version of the album.
† Both digital and physical purchases give you streaming via the free Bandcamp app, and option to download the recording in multiple formats including lossless.
news and updates
In case you missed it, I wrote a short piece for the June edition of The Wire (issue 448) in which I muse about speaker cabinets, cyborgs, simulations, rooms-within-rooms, and…
November 17, 2020: Eris 136199's latest album is out now (compact disc and digital download)! Eris 136199 is the chaotic snap'n'pop of Han-earl Park's cyborg virtuosity, the symphonies of power…
[All articles on Eris 136199 (BAF001)…]
description
Kaleidoscopic, thuggish, optical retina-effect astringent free jazz…. [More…]

— Paul Khimasia Morgan (The Sound Projector)
In a field of experimentation and free music, Eris 136199 stands as singular. [More…]

— John Pietaro (The New York City Jazz Record)
Exquisitely constructed, spontaneously messed-up, endless depth, kind of like letting an insane brain surgeon in through your ear. [More…]

— Dave Foxall (a Jazz Noise, Best of 2018)
"Yo man, you ever been hit by a car?" "Yeah, but maybe we should listen to this album I just picked up before I tell you about it." [More…]

— Gabriel Jermaine Vanlandingham-Dunn (Jazz Right Now, Best of 2018)
Formed in New York in 2012, Eris 136199 is the quick-reacting cyborg virtuosity of Han-earl Park (Sirene 1009), the mighty melodic imagination and big tenor sound of Catherine Sikora (Clockwork Mercury), and the diamond-cut precision and grind-meets-experimentalism of Nick Didkovsky (Doctor Nerve). Recorded during the 2017 European tour, Eris 136199's eponymous album is the trio's followup to their debut recording Anomic Aphasia (SLAMCD 559, 2015) which was described as "a beautiful noise" (KFJC 89.7 FM) and "atmospheric as to become almost frightening" (The New York City Jazz Record).
Noise multiplies via telephone futz, riding the transcontinental signal; a clockwork tight-rope walker dances, navigating (gears shift and gear grind) tension; and, above all, rises the Big Note around which we all fall to orbit.
Han-earl Park variously occupies the role of Eris 136199's drummer, bassist, and second horn-player. He is the instigator and mastermind behind Eris 136199, as well as groups like Sirene 1009 (with Dominic Lash, Mark Sanders and Caroline Pugh), and co-conspirator in projects with Richard Barrett and others. Park is navigator-engineer of the interactive, with playing that is by turns accommodating and interventionist. Changing direction and turning on a dime, Park demonstrates, with little more than a guitar, volume pedal and amplifier, a mutable, physical virtuosity.
In contrast, Nick Didkovsky creates anthems of glitch and distortion, playing the (analog and digital) signal chain from vibrating string to vibrating speaker via pedals and tube saturation. Demonstrating a deep understanding of rock, noise and experimentalism, Didkovsky rides the line between process-based mutations and heavy-rock riffage. Best known for his avant-metal big band Doctor Nerve, Didkovsky is also an active composer, working with ensembles such as Bang On A Can All Stars, ETHEL, and the Meridian Arts Ensemble, and the author of Java Music Specification Language, a system for algorithmic composition and real-time computer music.
Completing the trio is improviser, composer, saxophonist Catherine Sikora. Seated stage-center, Sikora brings a deep melodic and harmonic intelligence to the performances. In addition to long-standing collaborations with Eric Mingus, Christopher Culpo, Stanley Zappa, and Brian Chase, Sikora's big, bold sound, and extraordinary melodic sense, has been in demand with artists such as Enrique Haneine, Elliott Sharp, and Ross Hammond. That same sound and technique grounds Eris, simultaneously rooting it in tradition while continually stepping beyond its borders.
Recorded with clarity and punch by Troels Bech and Charlie McGovern, and beautifully mastered by the amazing Richard Scott, the album presents two near-complete sets; from earlier in the tour (Copenhagen), and from the final date of the tour (Newcastle).
And free and exclusive to pre-orders of the album: the download-only Cryptogenic Animals. Recorded live in Cheltenham a day after Copenhagen, two days before Newcastle, Cryptogenic Animals, offers a unique opportunity to track the evolution of this improvising trio during the 2017 European tour, showcasing the trio's adaptability to context, and creativity born from the contingent. [Listen/about Cryptogenic Animals…]
personnel
track listing
Therianthropy I (≥ 3:43), Therianthropy II (8:56), Therianthropy III (3:55), Therianthropy IV (6:30), Adaptive Radiation I (6:44), Adaptive Radiation II (8:48), Adaptive Radiation III (5:54), Universal Greebly (10:58), Hypnagogia I (8:03), Hypnagogia II (4:45). Total duration ≥ 68:25.
recording details
Music by Han-earl Park, Catherine Sikora and Nick Didkovsky.
Tracks 1–4, 9 and 10 recorded live November 2, 2017, Bryggekælderen, Copenhagen.
Live-mix by Troels Bech. Recorded by Troels Bech.
Tracks 5–8 recorded live November 5, 2017, The Bridge Hotel, Newcastle.
Recorded by Charlie McGovern. Mixed by Han-earl Park.
Mastered by Richard Scott.
Design and artwork by Han-earl Park.
Copenhagen performance presented by Jazz Club Loco and Jvtlandt.
Newcastle performance presented by Jazz North East.
Thanks to Troels, Charlie, Richard, and Chris Trent; to Melanie L Marshall, Josh Sinton, Cath Roberts, Franziska Schroeder, Richard Barrett, Caroline Pugh, Alex Fiennes, John Pope, Don Mount, Scott Friedlander and Kevin Reilly; to Jakob Drong Jensen and everyone at Jazz Club Loco; Jonas Vognsen of Jvtlandt; Wesley Stephenson, Paul Bream and everyone at Jazz North East; Corey Mwamba of OUT FRONT!; Stuart Wilding, Mark Unsworth, Anthea Millier, Jamie Dawson and everyone at Xposed Club; Verband für aktuelle Musik Hamburg; Rica Zinn and the crew of MS Stubnitz; Mike Borella of Avant Music News; and Cisco Bradley of Jazz Right Now.
And a big, big thanks to the backers of our Kickstarter project for their awe-inspiring generosity!
© + ℗ 2018 Han-earl Park.
Also available as part of…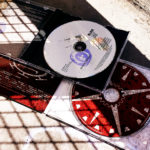 The Complete Eris 136199 on CD
Limited number of Eris 136199's two CDs at a special price.
• Eris 136199 (BAF001, 2018).
• Anomic Aphasia (SLAMCD 559, 2015) with Josh Sinton.
Included with pre-orders of Eris 136199
Cryptogenic Animals [details…]
Performers: Han-earl Park (guitar), Catherine Sikora (saxophone), and Nick Didkovsky (guitar).
Track listing: Cryptogenic Animals I (5:26), Cryptogenic Animals II (6:46), Cryptogenic Animals III (5:01), Monkey Wrench I (6:09), Monkey Wrench II (7:59), Spherical Cow I (7:30), Spherical Cow II (3:05), Dendrobranchiata Murmurationis I (3:18), Dendrobranchiata Murmurationis II (5:10). Total duration: 50:23.
© + ℗ 2018 Han-earl Park.
about the trio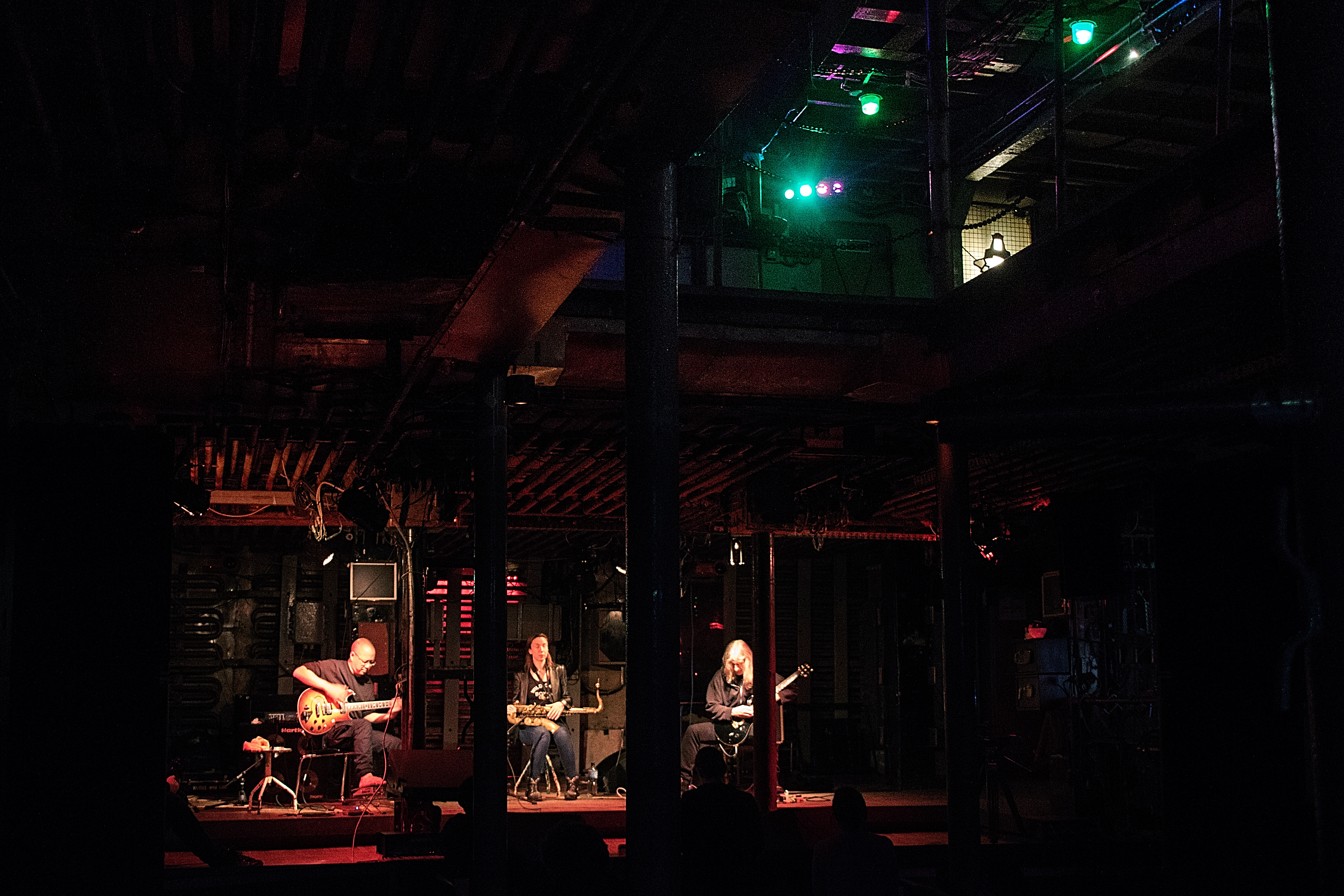 Eris 136199 plays on the crossroads of noise, melody, rhythm, space, density, contrast, synchronicity, asymmetry, serendipity and contradiction. Eris 136199 is the corporeal, cyborg virtuosity of constructor and guitarist Han-earl Park; the noisy, unruly complexity of composer, computer artist and guitarist Nick Didkovsky; and the no-nonsense melodic logic of composer and saxophonist Catherine Sikora.
Together, Park, Didkovsky and Sikora forge an improvisative space where melody can be melody, noise can be noise, meter can be meter, metal becomes metal, bluegrass turns to bluegrass, jazz transforms into jazz, all there, all necessary without imploding under idiomatic pressures. [More about the trio…]
about the performers
Improviser, guitarist and constructor Han-earl Park (박한얼) has been crossing borders and performing fuzzily idiomatic, on occasion experimental, always traditional, open improvised musics for twenty years. He has performed in clubs, theaters, art galleries, concert halls, and (ad-hoc) alternative spaces across Europe and the USA.
Park engages a radical, liminal, cyborg virtuosity in which mind, body and artifact collide. He is driven by the social and revolutionary potential of real-time interactive performance in which tradition and practice become creative problematics. As a constructor of musical automata, he is interested in partial, and partially frustrating, context-specific artifacts; artifacts that amplify social relations and corporeal identities and agencies.
Ensembles include Sirene 1009 with Dominic Lash, Mark Sanders and Caroline Pugh, Mathilde 253 with Charles Hayward and Ian Smith, Eris 136199 with Nick Didkovsky and Catherine Sikora, and Numbers with Richard Barrett. Park is the constructor of the machine improviser io 0.0.1 beta++, and instigator of Metis 9, a playbook of improvisative tactics. He has performed with Wadada Leo Smith, Paul Dunmall, Evan Parker, Lol Coxhill, Josh Sinton, Louise Dam Eckardt Jensen, Gino Robair, Tim Perkis, Andrew Drury, Pat Thomas and Franziska Schroeder, and as part of large ensembles led by Wadada Leo Smith, Evan Parker and Pauline Oliveros.
Festival appearances include Freedom of the City (London), Brilliant Corners (Belfast), ISIM (New York), dialogues festival (Edinburgh), CEAIT (Los Angeles) and Sonic Acts (Amsterdam). His recordings have been released by labels including SLAM Productions, Creative Sources and DUNS Limited Edition.
Park teaches improvisation at University College Cork, and founded and curated Stet Lab, a space for improvised music in Cork.
"Guitarist Han-earl Park is a musical philosopher…. Expect unexpected things from Park, who is a delightful shape-shifter…."
Brian Morton (Point of Departure)
Saxophonist, improviser and composer Catherine Sikora was born and raised in West Cork, Ireland. Self taught to begin with, she moved to New York City to study and play with great improvisers.
Sikora works in a broad range of settings, from highly complex composed music, to folk songs, to free improvisation. She works regularly with Eric Mingus, Enrique Haneine, Brian Chase, Han-earl Park, Stanley Zappa, Christopher Culpo and Ross Hammond, as well as actively pursuing solo performance.
In the past few years Sikora has toured in Canada, the United States, Europe and Australia. She was a featured soloist in Eric Mingus' radical reimagining of Tommy by the Who (Adelaide Festival 2015), and was artist in residence at the Centre Culturel Irlandais in Paris for the fall of 2014, working on a project inspired by stories from her female ancestors. Catherine's first solo album Jersey was released on Relative Pitch Records in July 2016.
"Sikora has invited us into her musical world, and like the neighbor from Queens, it is our good fortune to be in its midsts."
— Paul Acquaro (Free Jazz)
"Sikora resembles [Evan] Parker on tenor saxophone in that she has created a personal language in which she sublimates technique according to what she wants to achieve and maintains a discernible relationship to the free jazz tradition in her syntax; she recalls another English saxophonist, John Butcher, in her absolute control and deployment of overtones. Where she remains distinct from both Butcher and Parker is in how she incorporates such dissonance into a stream of delicate abstract lyricism. -John Sharpe, New York City Jazz Record"
— John Sharpe (New York City Jazz Record)
Nick Didkovsky is a guitarist, composer, and computer music programmer. His non-didactic approach to combining human and machine creativity is a unique musical fingerprint. Didkovsky has composed new music for Kathleen Supove, Ethel, Bang on a Can All-Stars, Meridian Arts Ensemble, New Century Players, ARTE Quartett, his own bands Doctor Nerve, Vomit Fist, Häßliche Luftmasken, and others. His compositions and guitar performances appear on more than 50 records.
For over 30 years, Doctor Nerve has fueled Didkovsky's intricate compositions with the energy of rock, often challenging the boundaries between heavy metal, contemporary music, and improvisation. Doctor Nerve has released nine albums of more than 50 of his compositions. The band has performed at numerous festivals including FIMAV, the Moers Festival, Musique Action, Creative Time, MIMI Festival, and 'Whitney Live' at the Whitney Museum of American Art.
As a guitarist and composer, Didkovsky was a member of the Fred Frith Guitar Quartet, contributing twelve compositions to its repertoire. Didkovsky's electric guitar compositions continue to be performed by newer ensembles such as Dither Quartet, E-Werk, and Fracture Guitar Quartet, and by soloists such as Kevin Gallagher, Marco Cappelli, and Wiek Hijmans. As a soloist, he has performed at numerous events such as Bang On A Can festival, Guitarévolutions in Montreal, New Ballet festival at the Miller Theatre, and John Zorn's East Asian Bar Bands. His 2015 Residency at The Stone in NYC resulted in numerous premiere performances of new works.
Collaborating with computer music pioneer Phil Burk, Didkovsky began developing Java Music Specification Language in 1997.
"Musicians (and listeners) who approach Didkovsky's work find that part of the challenge derives from his mastery of unpredictability."
— Linda Leseman (The Village Voice)
Also from Eris 136199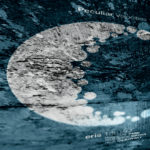 Peculiar Velocities (BAF002) [details…]
Personnel: Han-earl Park (guitar), Catherine Sikora (saxophone) and Nick Didkovsky (guitar).
Track listing: Ballad of Tensegrity I (≥ 5:12), Ballad of Tensegrity II (2:28), Peculiar Velocities I (3:46), Peculiar Velocities II (3:36), Sleeping Dragon (5:22), D-Loop I (≥ 6:16), D-Loop II (5:13), Polytely I (≥ 5:01), Polytely II: Breakdown (5:33), Anagnorisis I (2:09), Anagnorisis II (2:19). Total duration ≥ 46:54.
© + ℗ 2020 Han-earl Park.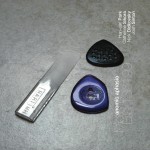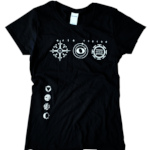 Eris 136199 T-shirt (limited edition) [details…]
100% heavy cotton, preshrunk jersey.
Screen printed with PVC-free, solvent-free ink.
Choice of ladies' and unisex/men's fit.
Available in S, M, L, XL, XXL.
100% for the perfect noise-night-out.
Celebrate your love of skonkin' improvised goodness by wearing the noisily official Eris tee.
updates
02-19-20: added reviews.
10-09-18: released!
03-04-19: add T-shirt.
03-24-19: add The Complete Eris 136199.
11-02-20: update discography with the addition of Peculiar Velocities.