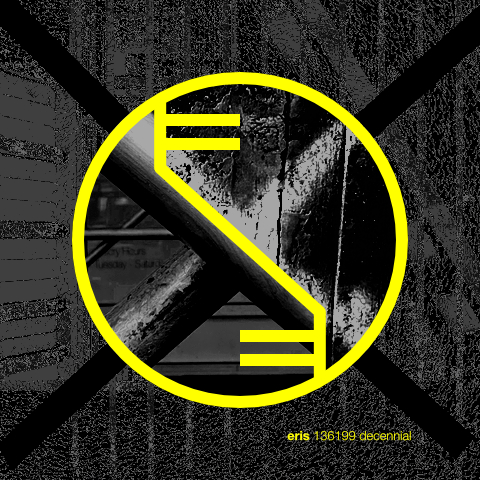 Celebrate 10 years of Eris 136199 with the trio's new EP, 𝑿: Eris 136199 Decennial!
On May 27, 2012 at ABC No Rio, NYC, Catherine Sikora, Nick Didkovsky and I took the stage for the first time as a trio. Ten years later, in celebration of this ensemble, Catherine, Nick and I have created a long-distance improvisative collage.
Download: €3.00 minimum ('name your price').
EP available to stream via the free Bandcamp app, and to download in multiple formats including lossless.
description
I recall the exact moment I knew this group was something special, when, fifteen minutes into the 40 minute improvisation, the broken-machinery-rattle-buzzes-and-bumps of the guitars were joined by the melismatic lines of the soprano saxophone. And the trio refused to collapse that juxtaposition—letting that idiomatic dissonance remain standing—creating its own logic by force-of-will.

— Han-earl Park
Ten years ago, May 27, 2012, at ABC No Rio in the Lower East Side, Han-earl Park, Catherine Sikora and Nick Didkovsky took the stage for the first time as a trio. Before the events of 2020, the plan had been for the trio, after the release of a new album, to go on tour. But, as the rogue piece of genetic material danced its dance with humanity, the trio had to rethink that plan.
Park selected an excerpt from the recording of the trio's Derby, 2017 performance to serve as the foundation for a new piece by the trio. He created custom music-minus-one mixes starting with a mix without the saxophone part. Sikora then recorded a new saxophone part. Park then created a mix with this new saxophone part, but without Didkovsky's 2017 guitar. Didkovsky then recorded a new guitar part, and finally Park recorded a new guitar part to replace his 2017 performance.
So fascinating—it is clearly, undeniably Eris, but also not Eris—the components are all there but the interactions/atmosphere is totally different.

— Catherine Sikora
It's like peering into a parallel universe and listening to what Eris in that world sounds like.

— Nick Didkovsky
And for the 'B-side,' the EP includes a remastered edition of the original source recording made in Derby five years ago.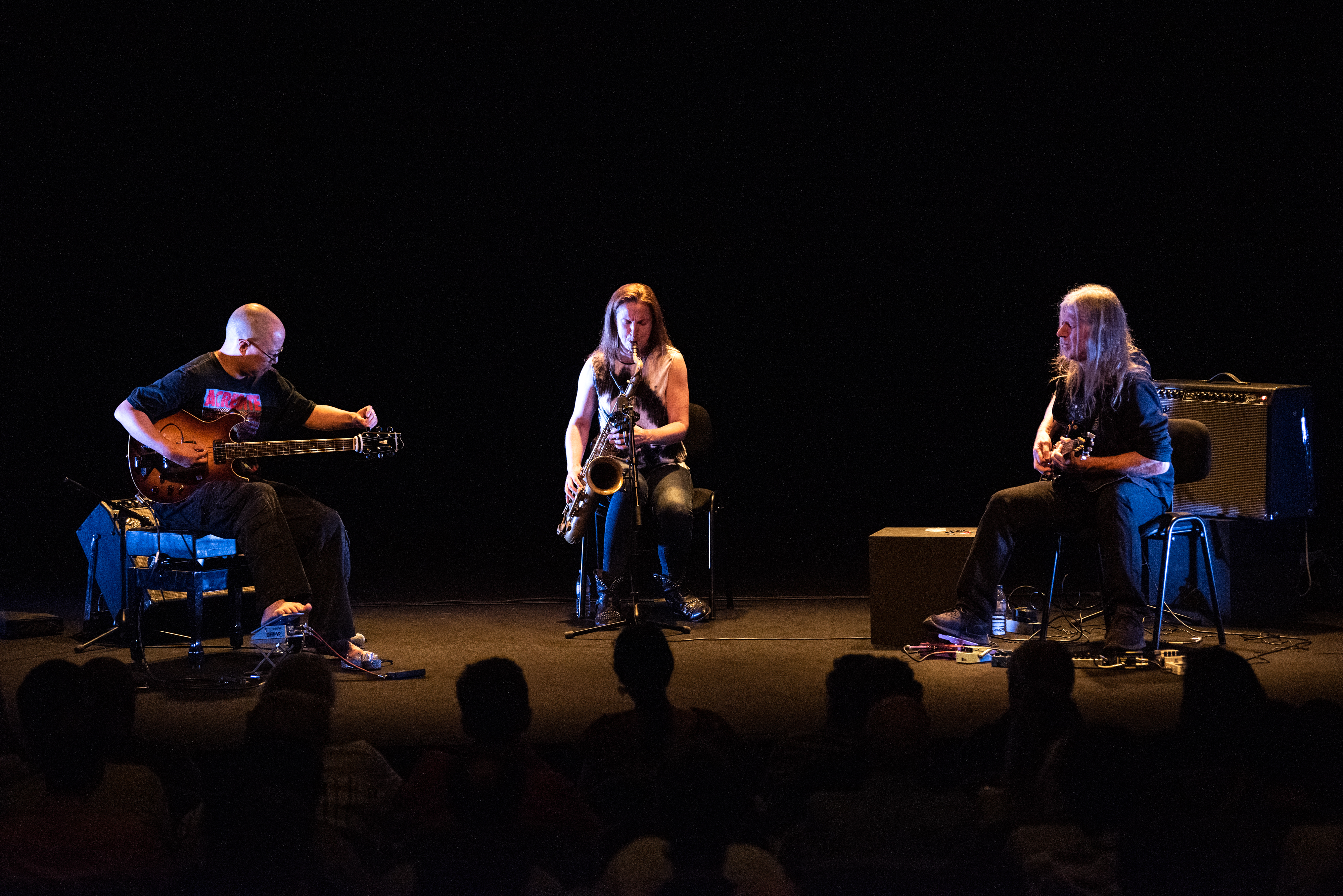 Eris 136199
Eris 136199 plays on the crossroads of noise, melody, rhythm, space, density, contrast, synchronicity, asymmetry, serendipity and contradiction. Eris 136199 is the corporeal, cyborg virtuosity of constructor and guitarist Han-earl Park; the noisy, unruly complexity of composer, computer artist and guitarist Nick Didkovsky; and the no-nonsense melodic logic of composer and saxophonist Catherine Sikora.
Han-earl Park is the instigator and mastermind behind Eris 136199, as well as groups including Sirene 1009 with Dominic Lash, Mark Sanders and rit., and co-conspirator in projects with Richard Barrett and others. Park is the constructor of the machine improviser io 0.0.1 beta++, and of Metis 9, a playbook of improvisative tactics. He has performed with Wadada Leo Smith, Paul Dunmall, Evan Parker, Lol Coxhill, Josh Sinton, Louise Dam Eckardt Jensen, Ingrid Laubrock, Gino Robair, Tim Perkis, Andrew Drury, Pat Thomas and Franziska Schroeder. His ensembles have performed at festivals including Freedom of the City (London), Brilliant Corners (Belfast), ISIM (New York), CEAIT (Los Angeles) and Sonic Acts (Amsterdam).
Saxophonist, improviser and composer Catherine Sikora, known for her big sound and lyrical melodic work, works as a solo performer and with Eric Mingus, Enrique Haneine, Brian Chase, Han-earl Park, Ethan Winogrand, Christopher Culpo and Ross Hammond. In recent years Sikora has toured in Canada, the United States, Europe and Australia. She was a featured soloist in Eric Mingus' radical reimagining of Tommy by the Who (Adelaide Festival 2015), and was artist in residence at the Centre Culturel Irlandais in Paris in 2014 and in 2020.
Guitarist, composer, and computer music programmer Nick Didkovsky has composed music for Kathleen Supové, ETHEL, Bang on a Can All-Stars, Meridian Arts Ensemble, New Century Players, ARTE Quartett, as part of the Fred Frith Guitar Quartet, and his own bands Doctor Nerve, Vomit Fist, Häßliche Luftmasken, and others. His compositions and guitar performances appear on more than 50 records. For over 30 years, his avant-metal big band Doctor Nerve has fueled Didkovsky's intricate compositions with the energy of rock, punching holes through the walls between heavy metal, contemporary music, and improvisation, and performing at festivals including Moers, FIMAV, and the Whitney Museum's 'Whitney Live.' With computer music pioneer Phil Burk, Didkovsky developed the computer music language Java Music Specification Language (JMSL).
personnel
track listing
Let 𝑿 (7:56), Problematica I.ii (remastered) (8:34). Total duration: 16:30.
recording details
Music by Han-earl Park, Catherine Sikora and Nick Didkovsky.
Track 1 recorded March and April 2022, New York and Berlin.
Track 2 recorded live November 4, 2017, The Bless, Derby.
Recorded by Eris 136199 (track 1), and by Chris Trent (track 2).
Mixed by Han-earl Park.
Mastered by Chris Sharkey.
Artwork by Han-earl Park with Catherine Sikora and Nick Didkovsky.
Special thanks to Corey Mwamba and Chris Trent. Derby performance presented by Corey Mwamba/OUT FRONT!, and with the awesome support of our Kickstarter backers. Track 2 includes material previously released on the limited edition album Problematica (2018).
© + ℗ 2022 Han-earl Park.
Also by Eris 136199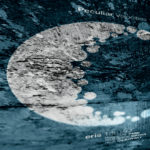 Peculiar Velocities (BAF002) [details…]
Personnel: Han-earl Park (guitar), Catherine Sikora (saxophone) and Nick Didkovsky (guitar).
Track listing: Ballad of Tensegrity I (≥ 5:12), Ballad of Tensegrity II (2:28), Peculiar Velocities I (3:46), Peculiar Velocities II (3:36), Sleeping Dragon (5:22), D-Loop I (≥ 6:16), D-Loop II (5:13), Polytely I (≥ 5:01), Polytely II: Breakdown (5:33), Anagnorisis I (2:09), Anagnorisis II (2:19). Total duration ≥ 46:54.
© + ℗ 2020 Han-earl Park.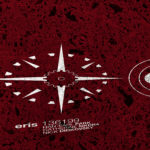 Eris 136199 (BAF001) [details…]
Personnel: Han-earl Park (guitar), Catherine Sikora (saxophone) and Nick Didkovsky (guitar).
Track listing: Therianthropy I (≥ 3:43), Therianthropy II (8:56), Therianthropy III (3:55), Therianthropy IV (6:30), Adaptive Radiation I (6:44), Adaptive Radiation II (8:48), Adaptive Radiation III (5:54), Universal Greebly (10:58), Hypnagogia I (8:03), Hypnagogia II (4:45). Total duration ≥ 68:25.
© + ℗ 2018 Han-earl Park.