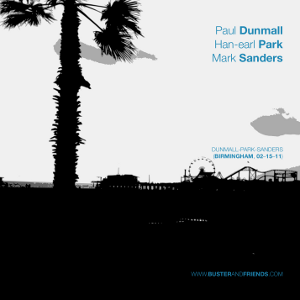 At Free Jazz Blog, as part of his review of the state of the guitar in the outer realms of improvised music, Paul Acquaro describes Paul Dunmall, Han-earl Park and Mark Sanders' download album as an "expert lesson on group interplay and spontaneous compositions".
…[Han-earl] Park's guitar is sliding and sputtering, delivering accents and tonal clusters neatly between Mark Sanders pulsating percussion and Paul Dunmall's intense and melodic saxophone work. The three musicians are nicely balanced, each instrument an integral voice in the improvisation. Dunmall is the main voice as the first track picks up, and when Park's guitar emerges as the driving force, he relies on creating biting textures and rhythmic figures intersecting with percussion.

Sanders and Dunmall are veterans of free jazz and have worked together many times in the past. Here, as usual, Sander's percussion work is invigorating, pushing the musicians and directing the energy. There are moments where he drops out, or holds back, that reveal how powerful of a presence he is. Dunmall seems to always have the most appropriately unexpected lines, whether the solo voice or providing comping. Park is a newer voice, and he holds his own with this virtuosic crowd. His approach on the electric guitar veers between clean and slightly overdriven tones, and has unique melodic approach, favoring fragments and tonal clusters, often filling in the spaces and painting with contrasting colors. [Read the rest…]
[More about this recording…] [All reviews…]
Also available for download…


Park+Murray (Cork, 07-29-10) [details…]
Performers: Han-earl Park (guitar) plus Marian Murray (violin).
(cc) 2012 Han-earl Park/Marian Murray.